Natalie Cumshot Swallowing Multiple, Squirting, Double Vaginal, Rough Sex

Download this movie at Tamedteens.com

Natalie
Actions: Cumshot Swallowing - Multiple, Squirting, Double Vaginal, Rough Sex
Run Time: 31:40

Whoever says Natalie is 'girl next door' sexy obviously does not live in my neighborhood. She is a young and very attractive girl that receives a real pounding. How will she hold up?

She goes through the usual slapping and choking and handles it well. She masturbates for quite a bit during the video in anticipation for the cock assault she's about to receive.

After getting some water dumped on her, she starts to get pounded from both directions. She does well during the rough oral and the spitting parts. She squirts a bit while getting pounded, which is better than the staged version we usually get.

In a slight break from the norm, Natalie gets both dicks in her pussy. I'm not too down with that, but she seems to enjoy it. They go through the remaining positions and she takes both loads in her mouth.

Overall, she holds up very well to the onslaught. Even through all the spitting, squirting, slapping, choking, and double vag'ing her makeup isn't even smudged. Great work.

Pros: Natalie seems innocent but takes it like a champ.
Cons: Long intro, DV not for me.

My Score: 3 out of 5

- Civ


Comments (4) :: Post A Comment! :: Permanent Link
Bonnie & Cindy H Fisting, Squirting

Download this movie at Fistflush.com

Bonnie & Cindy H
Actions: Fisting, Squirting
Run Time: 36:43

Bonnie and Cindy make a very cute combination. Cindy is a young, slender, cute brunette. Bonnie is, well, Bonnie. If you have seen any of her videos you know what I mean. Dang.

In typical fashion, we jump directly into Bonnie's pussy. We don't have time for introductions or long make-out scenes. Bonnie puts that new bitch to work immediately. They take turns eating each other out. They do a great job of getting into what they do, and getting into each other. Bonnie seems less interested in how Cindy's doing and more interested in what kind of large object she can cram in that little hole. She's incorrigible.

We quickly go from 1 to 5 fingers plus a few knuckles. Bonnie grows inpatient, but what else is new? She starts tapping her own well in an effort to make herself squirt. I'm not a fan of the squirt, but it would be disappointing if this video didn't feature it. Bonnie works herself into a few eruptions. Hey, where did Cindy go?

Bonnie commands Cindy to reach into her ass and look for treasure. Its way back there, so use your fingers, knuckles, hand, and wrist. Stop me if I've made this joke before on other Bonnie video reviews.

Cindy gives up after developing tennis elbow. The two girls get working on themselves. A real example of the difference between a slut and a super slut is revealed to us by their self-fisting. The cumshot is delivered in my pants this time.

The bottom line is Cindy is a bit young and not nearly slutty enough to compete with Bonnie. It's like Muhammad Ali fighting Stephen Hawking. This may be why they were paired up. Bonnie can now be called a mega-slut, a title only given to a choice few. This video was no challenge for her, but it's nice to see her training some of the newbies.

Pros: Insert missing watch joke here.
Cons: Starring in this video is Bonnie, Bonnie's fist, Bonnie's ass, and?…some other girl.

My Score: 3 out of 5

- Civ


Comments (2) :: Post A Comment! :: Permanent Link
Megane & Cecilia V Double Penetration, Anal Sex, Fisting, Squirting, Ass to Mouth

Megane & Cecilia V
Run Time: 29:37
Actions: Double Penetration, Anal Sex, Fisting, Squirting, Ass to Mouth

Wow, just from the preview here I was really excited about seeing this film. Three guys, two girls, a pool, anal, DPs and spunk swapping? Let's see how it turned out! Megane (the blonde), is in an orange bikini and looks absolutely stunning. cute as hell. Megane also looks sultry, in a green bikini. The girls exchange a brief tongue-filled kiss then turn around to show us their asses. The girls are in some playhouse, and we see three guys with rock hard schlongs rush over to have some fun.

Megane starts sucking on one as Cecilia strokes off the other two and does some sucking of her own. The girls are side by side sucking all the cock they can muster, and we get a reverse shot showing their asses in the air as they are on their knees. Scene's off to a great start! One guy can't even wait and just enters the playhouse and starts banging Cecilia's ass in doggie! Cecilia is getting anally ravaged as Megane orally pleases the other two. One guy comes over and gets his cock sucked by Cecilia as she takes her pounding.

The guy with the monster dick gets tired of Cecilia's ass and moves over to Megane's, also nailing her butt in doggie. Cecilia gets some more dick, this time in her snatch as her legs are lifted up over her head and she is nailed hardcore. Cecilia then gets fingered roughly in her snatch and starts squirting all over the place, drenching her abdomen. Incredible! The guy then does the same thing to Megane, who also squirts, though not as furiously. Cecilia comes over to lick Megane's snatch and taste that cunt juice.

After some brief reverse cowgirl anal, both girls are getting their cunts fucked in cowgirl near the pool. Great shot. We see some more squirting as Cecilia lets loose while getting her snatch fucked. Megane gets her ass nailed in spoon while Cecilia's legs are put up high in the air as she takes a cock in her in mish.

We get another treat now as Megane gets in doggie and manages to fist her own ass! Wow! Cecilia wasn't taking a break though, as the camera pans over and she is getting DPd in cowgirl. The anal continues on the couch, with Cecilia in particular getting deep thrusts into her butt, which must be sore as hell!

It's now Megane's turn to get DPd in cowgirl, and she positions her face near Cecilia's ass to take some A2M from the stud fucking Cecilia's butthole. DPs, anals, squirting and more continue along the same vain, with both girls putting in wonderful and physically demanding performances.

The first two guys spunk in Cecilia's mouth, which she lets ooze out right into Megane's. Megane swallows and the two french kiss sexily. The third guy then cums in C's mouth and the first guy comes back to give her some more spunk as well! She swaps it with Megane and the two girls happily smile and play with the schlongs some more as the scene ends.

Fantastic stuff. Gonzo at its finest. A must-download.

Rating: 9.5/10

Download this movie at Spermswap.com


Comments (0) :: Post A Comment! :: Permanent Link
Bonnie & Brittney Fisting, Squirting

Bonnie & Brittney
Run Time: 28:35
Actions: Fisting, Squirting

This is one unbelievably cute and very aggressive fisting movie, these girls don't hold back anything and push the limits, I think Britney found Bonnies when she tries to push punch fist her ass with a clenched fist. :)
This is the kind of movie that makes you think; omg thats too much.. give me more :)

Download this movie at Fistflush.com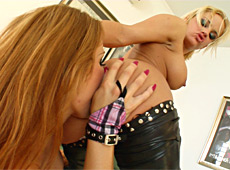 Comments (0) :: Post A Comment! :: Permanent Link
Carla C Double Penetration, Anal Sex, Cumshot Swallowing Multiple, Squirting, Gapes

Carla C
Run Time: 32:35
Actions: Double Penetration, Anal Sex, Cumshot Swallowing - Multiple, Squirting, Gapes

This girl is absolutely gorgeous,really pretty and hot with its mini skirt,she is really tamed and she seems to love sumbmission.anal,double penetration,gapes,all that stuff doesn't afraid her,in the end of the video,she swallows two loads of cum with excitment and with a smile,after the scene she seems to be happy,really awesome and exciting young slut.

Download this movie at Tamedteens.com


Comments (0) :: Post A Comment! :: Permanent Link
Bonnie & Brittney Fisting, Squirting

Download this movie at Fistflush.com

Bonnie & Brittney
Actions: Fisting, Squirting
Run Time: 28:35

Holy Fuck. This is one crazy movie. I think these 2 girls were actually born just to do porn scenes together. I loved there one on AllInternal and now this one. Fuck me...

There is some crazy shit in this one. Bonnie takes a whole fist up her ass hole which is just crazy, but she also manages to fit a hand up her snatch at the same time. She squirts as well, and Brittney must love the taste of it.

A brilliant bit is where Brittney is pounding Bonnie's snatch with a huge dildo, and when Bonnie squirts she Brittney catches it in her mouth and sprays it in Bonnies face. This happens repeatedly, and Bonnie squirts so much I think she might need to see a doctor.

The fisting is great, nice and deep. These girls take no prisoners.

Fucking 9.5/10 :wink: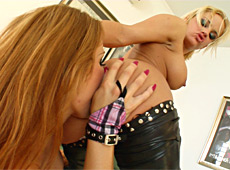 Comments (0) :: Post A Comment! :: Permanent Link
Candy C & Anabel Cumshot Swapping Single, Squirting

Download this movie at Spermswap.com

Candy C & Anabel
Actions: Cumshot Swapping - Single, Squirting
Run Time: 36:45

Review
Another really good scene. Pretty girls with natural sex appeal, who seem to love performing for the camera and work well as a team. In short, tight, fun loving teen nymphos and a variety of well shot, enjoyable scenes.

Verdict
8.5 / 10

Description
Candy and Christina from the Czech Rep. Are two cute and bubbly 20 year olds in fetching outfits. Candy kicks things off by burying her face in Christina's vagina which is supplemented with some dido action fromt he camera man. Candy receives similar treatment before getting down to sucking off the stud. Christina is quick to help out and before long we have group sex.

Christina is penetrated first doggy style whist licking Candy who is spread eagle. Then its Candy's turn to be shafted reverse cowgirl. Christina reponds by riding hard 'n fast. The two girls then spread wide for more pounding, Christina squirting in the process, in a plethora of positions culminating in Candy swallowing the semen swap from Christina before the two of them part company.


Comments (0) :: Post A Comment! :: Permanent Link
Bonnie & Brittney Fisting, Squirting

Bonnie & Brittney
Run Time: 28:35
Actions: Fisting, Squirting

Always great to see a new site up from the guys at PerfectGonzo. This time we have FistFlush, which one would assume is all about fisting! Luckily for us, we have great potential in this flick with Bonnie, the MILF anal queen, and Britney, a teen anal queen. One can only guess what is in store as the movie opens with these two hotties sitting side by side.

Bonnie makes Britney choke her and slap her face. Britney's top comes down soon after to reveal lovely ample breasts. The girls take turns spitting on each other's faces and there's some spanking too. Britney starts sucking on Bonnie's nipples and rubbing her pussy. Bonnie lays down on the couch and Britney wastes no time eating that cunt up and fingering her until she squirts all over the place.

Britney's leather pants come down and Bonnie starts eating out this cutie's asshole. Lots of nice views of Britney's ass here as Bonnie rims her and licks her pussy. Bonnie then gets a rather large dildo which she shoves in and out of Britney's slit pretty forcefully. This small girl can really take it! It's pulled out and both girls suck on it, tasting Britney's juices. Britney again fingers Bonnie until she squirts, this time all over her mouth! Very sexy.

We then get what this site is all about, Bonnie in spoon, and Britney taking her fist and shoving it right up her ass! This is incredible stuff, as Britney moves that hand of hers in and out of Bonnie's butthole. Before long, she uses her left hand to fist Bonnie's pussy. That's right, double fisting time! As she pulls out of her pussy, Bonnie lets loose another stream of ejaculate for our viewing pleasure.

It's Britney's turn now. She's laying on her back, and Bonnie spreads her cunt wide to allow her fist access. The fisting commences, but we get another twist as the dildo from earlier is brought back and put in as well! Amazing! Her hole must be stretched to the max.

Bonnie then gets some more anal fisting, and this time gets DPd as Britney takes the dildo and puts it in her twat. And yes, Bonnie squirts again. The scene's last shot is Britney getting vaginally fisted while on her back on a lounge chair, Bonnie really gives it to her good. They kiss and it fades to black.

It's gonna be tough to top this scene as this site evolves. Anal fisting, double fisting, DP fisting, this one had it all. Two wonderful performers stretching their boundaries.

Great start.

9/10

Download this movie at Fistflush.com


Comments (0) :: Post A Comment! :: Permanent Link
Clara G & Zafira & Sandy Fisting, Squirting

Clara G & Zafira & Sandy
Run Time: 37:20
Actions: Fisting, Squirting

"You've gotta be shittin me!"

No, this is not the name for a new fetish website. It was my reaction when I saw no one has reviewed this video yet.

In this perfect score candidate, we find three pre-legends. Sandy's a superstar in the girl-girl world, with an extensive resume with Viv Thomas videos. Clara G has knocked it out of the park in every video she has done for this family of websites. Zafira is wanted in three states for making reviewer's crotches burst into flames.

Now, this is a good example of girls getting into it. In a twister of licking and nibbling, nowhere is safe?…or dry. They even go the extra mile of kissing each other on the neck. Wait a sec, I need to go turn down my air conditioner and get a glass of water?…and a fire extinguisher.

The lesbian action at the beginning of the video should be mandatory viewing by upcoming starlets. This educational video should be pointed at as the standard for all girl-girl scenes. They progress from kissing, to vagina eating, to fingering with ease and excitement. They work as if they mean to get each other off, not playing to much to the camera or doing attempting to fake it.

Clara seems to have a thing for blondes. Sandy is the focus of much of her attention. She even makes out with herself in the mirror. They take delicious turns eating each other out and fisting one another. Another plus to this is the ease at which they use each technique. In other videos you can mark the passage of time when the girls go from mouth to finger to fist to wrist. In this one we are assaulted by all three at all times. The camera operator must have had his/her hands full trying to get all of it. P.S. I would like to try too!

The hottest part of the video is when Clara and Zafira are stacked up and Sandy gives them both barrels. Zafira doesn't seem to get as much attention, even here. Obviously some discrimination exists, even in the porn world. Come to me Zafira, I will give you all the attention you can handle and the restraining order will allow.

Pros: A perfect video. Outside talent, gorgeous girls, and excellent action all around.
Cons: None.

My Score: 5 out of 5, congratulations girls.

- Civ

Download this movie at Fistflush.com


Comments (0) :: Post A Comment! :: Permanent Link
Rose Double Penetration, Anal Sex, Cumshot Swallowing Multiple, Squirting, Ass to Mouth, Rough Sex, Gapes

Download this movie at Tamedteens.com

Rose
Actions: Double Penetration, Anal Sex, Cumshot Swallowing - Multiple, Squirting, Ass to Mouth, Rough Sex, Gapes
Run Time: 33:36

Rose is in open-toed shoes and a black miniskirt. She gets on all fours and we get closeups of her face before having her crawl around like a dog and then lie on a lounge chair and show off her plaid panties. She pulls aside the panties and starts rubbing her clit for us. She gets choked and fingers her cunt. She gets up and gets into doggie, exposing her sexy little ass. The director starts smacking her ass with a cane, then fingers her teen butthole.

Two guys then show up, and take turns throatfucking this cutie and finger her pussy. They move to the couch and one of the guys takes his colossal cock and slides it into her twat for some spoon action while she sucks off the other. It doesn't take long for the guy to decide to take her anally, and we get a nice shot of her legs together, ass exposed, getting nailed in the ass. There's some doggie anal with some more spanking before an awesome shot of her with her legs right up behind her head, as our stud slides his cock back into her teen butthole. The other stud makes good use of Rose's feet, using them for a brief footjob. They do some reverse cowgirl and at one point Rose squirts right onto the camera!

The reverse cowgirl anal eventually turns into a reverse cowgirl DP. This teen is really getting hammered in this vid. They also do a cowgirl DP before one guy picks her up and throws her onto the couch in mish for some super anal. They finger her snatch again until she squirts some more, and then set up for the finish. The first guy shoots a great load into her mouth, like 7-8 spurts of jizz. The second guy's load is anticlimatic by comparison. Rose keeps her mouth open the whole time, and swallows it down. She is choked and slapped a bit to end the scene.

Good rough sex with a willing and eager nymph.

Rating: 8.5/10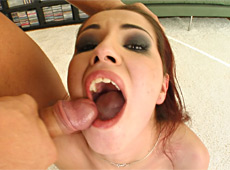 Comments (0) :: Post A Comment! :: Permanent Link
Clara G & Peaches Fisting, Squirting

Clara G & Peaches
Run Time: 37:32
Actions: Fisting, Squirting

Short Version: Clara, a beautiful blonde bitch, and Peaches, a sweet-looking brunette, take each other on in a no-holds barred lipstick lesbian fuck-fest, featuring full vaginal fisting by both girls.

Highlights: The video starts off with a fun, flirty interview that is fun to watch. Both of these girls are comfortable with each other and before the camera. The talking becomes a part of the performance with the girls telling each other what they want to do to each other throughout the video. The cameraman does a nice job of contributing but staying out of the way. At 17:00 the playing ends and the real lesbian sex begins with Clara intently licking Peaches snatch in various positions. At 20:00, the two girls use their fingers to open Peaches snatch wide. Hmmm...something is going on here. At 20:30, Peaches tells Clara to use her favorite lube, which Clara does ?– all over her hand. Clara spreads some of the lube on Peaches pussy, and starts a slow, fascinating scene that results in Clara's entire hand inside Peaches snatch at 21:50. Clara says, "Spread that chick!" as she fists her. Peaches eventually joins in the fisting fun, inserting her own hand inside her stretched cunt. It's freaking amazing! The video continues with Peaches fisting Clara's snatch until Clara squirts pee all over her hand. The concluding scene has both girls lying on their backs, fisting their own pussies, with large smiles on their faces.

Who Fisted Who: Clara fisted Peaches, then Peaches fisted Peaches, then Peaches fisted Clara, then Clara fisted Clara, then they each fisted themselves. Whew!

Drawbacks: Can't think of one except that no male semen is spewed (visibly) throughout the whole scene. I'm sure that lots is going to be spilled once you all see this video!

Random Thoughts: I'm not sure if it sexy or just freaky but it sure is something to watch! :shock::twisted:

Download this movie at Fistflush.com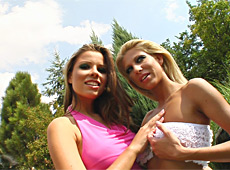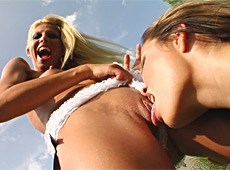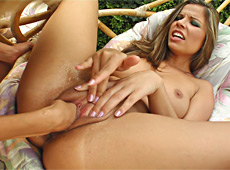 Comments (0) :: Post A Comment! :: Permanent Link
Gianna Water squirting, Toys Pussy, Squirting

Download this movie at Givemepink.com

Gianna
Actions: Water squirting, Toys - Pussy, Squirting
Run Time: 28:50

Gianna is a sweet girl with nice dark hair. The camera starts from a low angle so she can be admired from bottom to top. The sweetness is only appearance because when she gets fully undressed she goes really wild. Creatively at first a salt container is used as a dildo! After that she stands up and a normal dildo is used. With one leg raised up high you get a good view of the action. To add to the excitement she moans sensually and give you horny looks. She moves to a couch and puts her ass up high for some more heavy action. Finally she releases some bodily fluids and walks away leaving you behind satisfied but wanting more. Please more of Gianna in the future!

Overall rating 9 out of 10


Comments (0) :: Post A Comment! :: Permanent Link
Bonnie Double Penetration, Big Tits, Anal Sex, Water squirting, Cumshot Swallowing Multiple, Fisting, Squirting, Double Anal, Ass to Mouth, Choking, Slapping, Rough Sex, Hair Pulling, Gapes, Deep Throating, Gangbang

Bonnie
Run Time: 45:47
Actions: Double Penetration, Big Tits, Anal Sex, Water squirting, Cumshot Swallowing - Multiple, Fisting, Squirting, Double Anal, Ass to Mouth, Choking, Slapping, Rough Sex, Hair Pulling, Gapes, Deep Throating, Gangbang

Beautiful, mature Bonni Bone is sitting backwards in a chair in a matching bra and panty with a tiny, black mesh skirt and black stockings. I wonder if the bitch had any idea before the scene as to the ordeal that was waiting for her. During a little dance she removes her skirt. Seated she removes her bra to expose her perky, fake tits. Next she removes her panties, and sits down on a barstool. Rubbing her cunt she squirts up a storm. Bonni goes through more preliminary action, but we'll skip forward to my favorite part when the beef shows up.

Suddenly we have five studs lined up waiting for Bonni. One by one they shove their penises into the bitch's mouth. There is plenty of hair pulling, head grabbing, and face slapping during the oral warmup. At times I am surprised she can breath with their penises crammed so far down her throat. They put Bonni in several positions and attack from different angles. Bonni definitely earns her cocksucking merit badge. The face slapping continues. Thank heaven for European bitches, because American porn cunts haven't stood for that sort of act for a quarter century.

They place Bonni on her back. A cock slides into her asshole as another fills her mouth. Often hands clinch her neck during the action. The guys switch off filling her ass and mouth. Bonni has no qualms taking a cock fresh from her shithole into her mouth. They ruthlessly hammer away at her asshole with only one thing in mind, how good it makes them feel. A couple studs even place their feet on Bonni's throat during their backdoor assault.

On the wood floor they continue the butt-fucking in a doggy-style position. During the pounding Bonni is all forced to suck cock. The guys love their new vantage point as they slam their penises hard into her Hershey Highway. Her head is shoved deep onto cocks. If this bitch was looking for love she came to the wrong place.

One of the men lies back on the floor. Bonni mounts him reverse-cowboy with her asshole. The other studs thrust their penises into her face for her to suck. The choking and hair pulling pick up again. She climbs off the first guy. They finger her snatch until she squirts again. Bonni hops back onboard on a dick with her poopchute. Another guy fills her vacant snatch with his shaft. Over the next several minutes her snatch and asshole get pounded, together, and sometime alone.

On the sofa Bonni is DPed with her snatch this time on the guy below. A third guy slides up close to give her something to suck on as well. Bonni is awesome. I bet if you look up the word "Whore" in the dictionary it will say "See Bonni Bone". The guys trade off filling her mouth and pounding her ass.

The guy from below shifts his cock from her snatch to her asshole. He thrusts away at for a minute or so. Now comes the moment of truth. A second stud pushes his dick into her gaping cave also. Her pooper had to smart. All the time she was also being force fed cock in her mouth. All of the guys got a chance to be in on the double-anal fun. They put her through a few different position changes for the DP and DAP.

Like a good competitor Bonni kneeled on the floor in anticipation of her compensation for being such a good slut. One after another each stud deposited his sticky payment in her mouth. Once the last deposit had been posted Bonni swallowed down the gooey batch.

I am sure all the guys respect Bonni off screen, but the disrespect for her character onscreen was electric. It harkened back to the good old ideas in American porn when sluts were gangbanged on pool tables, cunts were defiled in fields by motorcycle thugs, whores plundered on a mattress in an empty factory, or sorority kittens ravaged in their beds. The scene was a massive success. A massive thank you to the European studs and their lovely lady Bonni.

Download this movie at Asstraffic.com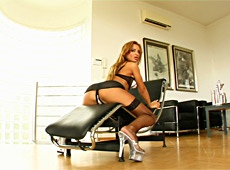 Comments (0) :: Post A Comment! :: Permanent Link
Bonnie & Brittney Double Penetration, Cumshot Creampie Anal, Cumshot Creampie Multiple, Anal Sex, Cumshot Creampie Eatout, Milk squirting, Squirting, Double Anal, Double Vaginal, Ass to Mouth, Deep Throating

Download this movie at Allinternal.com

Bonnie & Brittney
Actions: Double Penetration, Cumshot Creampie - Anal, Cumshot Creampie - Multiple, Anal Sex, Cumshot Creampie - Eatout, Milk squirting, Squirting, Double Anal, Double Vaginal, Ass to Mouth, Deep Throating
Run Time:


Bonnie and Brittney are two of the nastier girls we have seen here for a while. They are two real whores and love to get fucked in the ass and to get double penetrated. In this scene we can even see Brittney with two penises in her vagina and Bonnie with two in her ass. The action is what you can expect with two women like these: very hard and rough. But for me it is not very hot, they fuck like machines or like they were crazy and that does not look attractive to me. The action is quite long and there are plenty of different positions and camera angles. The girls put a lot of energy and the boys are just OK.
Probably, the most remarkable moment of the scene is the final creampies. The 3 boys semen in Bonnie's ugly asshole and she pusses all the semen all over Brittney's mouth and face. Finally Bonnie licks Brittney's face and the rest of the cum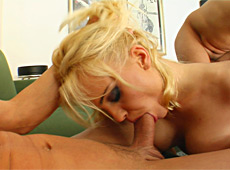 Comments (5) :: Post A Comment! :: Permanent Link
Megane & Cecilia V Double Penetration, Anal Sex, Fisting, Squirting, Ass to Mouth

Megane & Cecilia V
Run Time: 29:37
Actions: Double Penetration, Anal Sex, Fisting, Squirting, Ass to Mouth

It seems that the Perfect Gonzo casting team decided to move west to check out the French talent pool. We have two honeys Megane and Cecilia who are in a children's play house in front of a pool. Cecilia, the brunette, is very sexy and she tells us she is horny today. Megane, the blond, has a wonderful sexuality to her as well. They are partnered with three studs and waste no time before taking cock in their mouths. And the hardcore starts very early as the French woodsman drives right into Cecilia's ass from behind. Megane starts out with a cock in her mouth then her pussy, and she gives up her ass fairly quickly too.

The action is quite frenetic right from the beginning, and unlike most of the Perfect Gonzo scenes, this one seems to have more spontaneous action as evidenced by the positions not following a typical order. For example, doggy anal for both girls leads to Cecilia getting vigorously fingered and her juices soaking her entire stomach, to cowgirl vaginal for both girls to reverse cowgirl anal, to side saddle anal to missionary vaginal. . . About 15 minutes in, Megane shows us that she can fist her own ass while Cecilia is busy being dped. After the dp, Cecelia seems like she has been fucked exhausted and needs a break. But the action keeps going!!! Megane gets her ass fucked in standing doggy while sucking cock, and Cecelia gets her ass fucked in missionary.

Fantastic scene here. This review is a little less structured that my usual ones, but the scene was less structured as well. The action was spontaneous and wild and it is clear that the girls had a great time, especially Cecilia. The spontaneity of the scene was really fantastic as sometimes these movies can follow too much of a formula. Cecilia, after getting fucked silly, says that she doesn't even know where she is!!! Though Megane is a bit more traditionally pretty, Cecilia seems the more genuine performer. However, both showed a ton of enthusiasm, took hard anal, and had a great time. Though the studs were exhausted, they wanted more (as the scene ends with the girls back having cock in their mouths). And I would love to see more of these chicks!!!

Rating 5/5

Download this movie at Spermswap.com


Comments (0) :: Post A Comment! :: Permanent Link
Bonnie & Brittney Double Penetration, Cumshot Creampie Anal, Cumshot Creampie Multiple, Anal Sex, Cumshot Creampie Eatout, Milk squirting, Squirting, Double Anal, Double Vaginal, Ass to Mouth, Deep Throating

Download this movie at Allinternal.com

Bonnie & Brittney
Actions: Double Penetration, Cumshot Creampie - Anal, Cumshot Creampie - Multiple, Anal Sex, Cumshot Creampie - Eatout, Milk squirting, Squirting, Double Anal, Double Vaginal, Ass to Mouth, Deep Throating
Run Time:


Oh My Fucking God! The first 2 minutes of this movie is worth the subscription alone! Please do this more often!!!!

Starts out with Bonnie on a chair and her "Cousin" Brittney getting her ready by injecting her ass full of milk. As Bonnie pushes it out of her ass Brittney starts catching the milk in her mouth. Brilliant, i love these chicks already. Then the Bonnie fills Brittneys pussy with milk, which she squirts out onto the camera!

The scene cuts, (to clean the camera) and the 2 bitches are in doggy style and start to suck some cocks. After some dick sucking from the girls Brittney gets a cock stuffed in her pussy, and the leftover milk comes out. Then whilst Brittney is still getting fucked, Bonnie gets a cock up her ass and they share the left over dick, sucking it off. Bonnie then sits on one of the dicks, and she gets anal in the reverse cow girl position, and whilst shes getting fucked she squirts in orgasm. Brittney is not left out and gets pussy fucked in reverse cow-girl too.

The scene then cuts and we see Brittney getting a bit of double vaginal, with a dildo and a dick and Bonnie is getting DPed by the other 2 guys. Then the guy pulls out of Bonnies ass for Brittney to suck clean, repeatedly. The Brittney gets double vag with 2 dicks whilst Bonnie is getting anal. Bonnie then gets fucked in the ass reverse cowgirl again and does her famous squirting, then she gets laid on her back and pussy fucked so hard. She tells him to slap her face as well.

Brittney also gets a DP here too. Just when i thought she didn't like anal she comes back and surprises us! Lots of different positions from the girls and boys and lots of very, VERY good sex, pussy and ass, DP and ass to mouth. Whilst Bonnie is getting throat fucked, Brittney is stood there fisting her pussy. She just amazes us as the movie goes on. Then after some more sex, Brittney lays down and Bonnie goes on top of her to get her pussy licked whilst she gets a dick in her ass. All 3 boys inject their loads into Bonnie and they gets dripped out into Brittneys mouth and on her face.

~~~~~~~~~~~~~~~~~~~~~~~~~~~~

Conclusion. Buy it. Even though Bonnie has a pretty ugly ass hole her performance make up for it. This is an energtic scene with lots of different types of sex. Just buy and you will love it!

9/10 - Bonnie has an ugly ass which lost a point.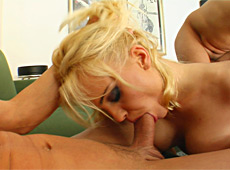 Comments (0) :: Post A Comment! :: Permanent Link
Mandy B Cumshot Swallowing Single, Fisting, Squirting, Deep Throating

Mandy B
Run Time: 36:39
Actions: Cumshot Swallowing - Single, Fisting, Squirting, Deep Throating

Alright, more Mandy Bright! This anal superstar has been on this network of sites before, although usually not in an buttfucking capacity. This doesn't seem any different, but it's still always a thrill to check her out.

She's in a long black PVC dress with open-toed shoes. She slowly unclamps her dress to reveal wonderful hooters and her hairy pussy. She fingers her twat then pulls out a giant pink dildo which she inserts into her mouth deep enough to gag. Gotta love a girl like that! She slides that long thing into her pussy and starts ramming it violently in and out. She takes it out and sucks on it, and then a stud comes in to start ramming his cock down her MILF throat. This is serious skullfucking, and Mandy can sure take it. We get a nice shot of her exposed pussy and hooters as her face is covered by our hero plunging his dick into her face.

She gets into doggie and again inserts the dildo, except this time the guy puts his dick in there too for some double vaginal. She pulls the dildo out and sucks it as he fucks her in spoon. He starts choking her. They get into cowgirl, and it's hot to see Mandy's hooters bouncing up and down as she rides her guy hard.

She then leads our stud to a couch where she lies down and puts her legs behind her back. He wastes no time eating her wet pussy, much to her delight. Mandy takes her shoes off (we don't see her feet), and the guy fists her pussy up to the wrist. She rubs her clit as he fists her until she starts squirting/peeing, and he licks it up. They do some fast mish fucking, before Mandy does some facesitting, which is great to watch, as she plugs his nose and thrusts her pussy right onto his face. Excellent stuff.

They then do some reverse cowgirl, and Mandy squirts all over the camera! Mandy is then on her knees, stroking and sucking the cock. She whacks him off until he cums in her mouth, and she happily swallows. She looks hot at the end, with her eye makeup all running and black.

Any scene with Mandy is intense and this is no different. Solid, hard action, although no anal.

Rating: 8/10

Download this movie at Milfthing.com


Comments (5) :: Post A Comment! :: Permanent Link
Chrystine Water squirting, Squirting

Chrystine
Run Time: 31:08
Actions: Water squirting, Squirting

I found this video to be really boring. The bit where she is fucking herself with the bottle is stupid as she gets like the smallest bit in there ever, and she is moaning over it which i just found to be stupid. Also only the slightest bit of the corn gets in there just like poking her pussy.

She does look really cute at the beginning and has a very nive body and face but the film is boring.

5/10 for me. Maybe i was a bit harsh.

Download this movie at Givemepink.com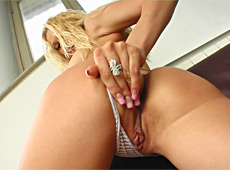 Comments (0) :: Post A Comment! :: Permanent Link
Clara G Fisting, Squirting

Clara G
Run Time: 29:50
Actions: Fisting, Squirting

Clara G is looking as sexy as ever with vibrant red lipstick and a matching outfit. This girl is the fisting queen and is obviously horny as hell as she can't help but slide her hand underneath her pants to play with herself. She bends over and shows off that famous ass of hers. She crawls over to a chair, where she sits and takes off her bra. She pulls off her pants and the scene shifts indoors where she's on a lounge chaise rubbing her clit.

She takes a large, clear dildo and rubs her snatch with it before inserting it into her wet cunt. She uses her feet to hold the dildo and thrusts it in and out repeatedly. She then places the dildo on the chair and goes into cowgirl, bouncing up and down on it. Very sexy. She puts her legs way up behind her head and uses both hands to fuck herself with the dildo, then pulls it out and starts sucking it deep. Wonderful!

She is then given a bunch of bananas, three to be exact. After sucking one for a bit, she does an amazing thing. She puts two of the bananas in her snatch and one in her asshole. A banana double vag-DP! Unbelievable. She then positions herself with one leg on a chair, ass in the air, and proceeds to fist herself. She then gets into mish position and we get fantastic closeups of her face and snatch as she fists herself even more. Words can't describe how sexy this is, with her self-fisting, facial expressions, and sexy red shoes all in the same picture. This is hardcore at its finest.

By the end, Clara continues fisting and her snatch starts squirting uncontrollably. She loves it. She spreads her snatch open and shows it to us before saying goodbye.

Fantastic scene, Clara is still a world-class performer. This should not be missed.

Rating: 9.5/10

Download this movie at Fistflush.com


Comments (0) :: Post A Comment! :: Permanent Link
Abigail Toys Anal, Squirting

Download this movie at Givemepink.com

Abigail
Actions: Toys - Anal, Squirting
Run Time: 30:55

Abigail is a brown haired tiny assed naughty girl. In classy stockings she greets you in the beginning of the scene. Her ass is up the air in no time and you get to enjoy all her great features right away. She slowly undresses and puts a finger in her pussy before a blue dildo is visiting her ass! Another little dildo is added to the fun in the main hole and she really gets into it. The juices really starts flowing and she climaxes. And then sadly she walks away. Out of your dreams leaving you behind wanting more to come in the future. Excellent scene!! Overall rating 9 out of 10


Comments (0) :: Post A Comment! :: Permanent Link